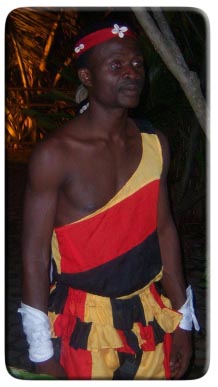 Justice, a resident of Accra, became a Sankofa supporter in 2002. He is the founder and leader of the Lolonyo Happiness Cultural Drum and Dance Group. He is also a gifted and talented cultural drummer and dancer.

His Group has performed through-out Ghana and has also performed for dignitaries visiting Ghana, including former President Bill Clinton of the United States of America (USA). The Group is best known for its unbelievable bamboo pole performance, a must see.
In 2007 and 2009, the Group performed brilliantly for the Sankofa Group travelling from the USA. Even today, the Americans still talk about these performances.
Today, Justice has the only national training center for drumming and dancing, located in Alogboshie, and supported by Sankofa.
If you would like to view Justice as he takes a moment to explain the positive impact Sankofa has made in his life, click here.