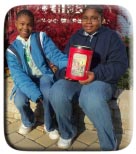 Change to Make A Change (

)

In 2009, Jewel and Joy West attended Sankofa International's Family and Friends Day. Touched by photos of suffering children in Africa, they took immediate action to help.
Special thanks to Pastor Eugene West and the Water of Life Home School for their support for this program.
For more information about Sankofa International's Change to Make A Change program,
click here.